1-Year-Old Receives Lifesaving Heart Transplant Seconds After Church Stops To Pray
Little Baby Is Close To Death, But Then an Entire Congregation Prays For A Miracle
We experience the mercy of God when we least expect it.  Acts of kindness and care always shows fruitful results. At times of distress, if you pray with all your heart, you prayers are heard by the Almighty. Prayers are surely heard and they work. When you realize that your prayer has been answered, that is the time you realize that God is real. That is your God moment. Such a moment was felt by a couple, Mike and Melanie Leitner, when their daughter was fighting death.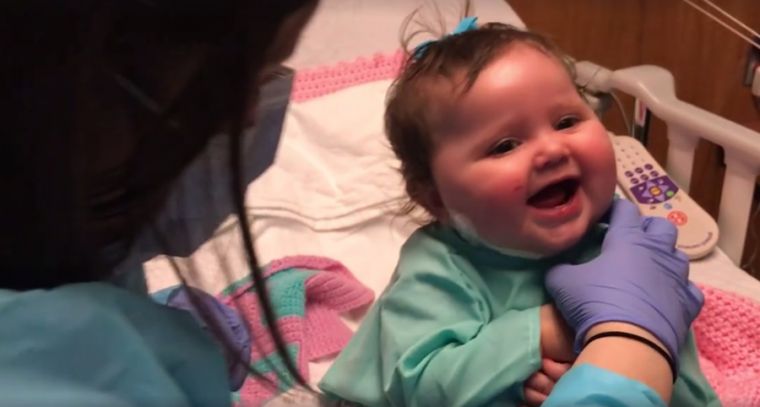 Ella is the name of Mike and Melanie's daughter. She is a little girl who was suffering from a life threatening condition. She was struggling to survive. Ella's heart was in such poor condition that she needed an organ transplant. Her heart was in a deadly condition and she was struggling to survive. She was fighting for her life. While a new heart for Ella was being searched for, her condition was getting worse.
This is when Mike and Melanie turned to faith. That was the last hope left to them. The pastor of their church, decided to stop in the middle of service and pray for Ella and her parents. He informed the entire congregation about the baby's condition and how it was deteriorating with each passing moment. He told the congregation that the little girl was failing to put up her fight for life and that her conditioning was worsening. The pastor prayed for the child and for the parents.
The entire experience of the church was narrated by Melanie to WBTV-TV. While prayers were said in the church, even those at Levine Children's Hospital was praying for Ella. God heard this prayer and answered it.
While Mike and Melanie was returning home from their church, they got a phone call from Celine, the other coordinator. This call changed their world and changed it for the best. Celine informed them that she got the offer of the perfect heart for Ella. Melanie had to admit that this was the ultimate God moment for them.
After all this prayer and the heart transplant of Ella going successfully, the baby girl is alive and living a healthy life. She will always know that there was a divine intervention that saved her life.