Only A Few Days After Giving Birth To Triplets, Mother-Of-Five Suddenly Passed Away
The arrival of newborns is one of the most joyous moments of life. Now imagine the arrival of TRIPLETS — three bundles of joy all at once! What a fantastic time in any parent's life.
Casi and Joey Rott were no exception. They were over the moon when they found out they were having triplets, and their two older kids — Chloe, 6, and Tenley, 2 — were excited too. But on the day that they were going to bring the triplets home, everything changed. 
Casi and Joey were coworkers when they met and fell madly in love. They both wanted a big family, so they got started right as soon as they got married. After they had their first and second children, they were delighted to find out that they were expecting triplets!
When the day finally came, Casi was able to deliver three healthy babies — two boys and one girl. She was quick to recover, and was released from the hospital. Not two days after being discharged, she woke up in the middle of the night complaining of sharp chest pains and palpitations. 
Joey rushed her to the hospital. It turned out that she had a blood clot in her lungs, which were likely caused by the triplet's pregnancy and C-section. Women become more susceptible to forming blood clots while pregnant because it's the body's natural mechanism for reserving blood, as you will inevitably lose a lot of blood during labor and birth.
Casi held her triplets for the first time in the NICU. Then, she and Joey went home to prepare the nursery for their three little ones. The couple also made sure to spend quality time with Chloe and Tenley, their older kids, before the triplets arrived.
This moment turned out to be even more precious than they realized — it was the last time that Chloe and Tenley got to spend time with their mom.
Later that day, Casi passed away. 
No words can describe the devastation and despair Joey felt. He lost his best friend and partner, so unexpectedly, and he was left with five children under the age of 7 to raise on his own.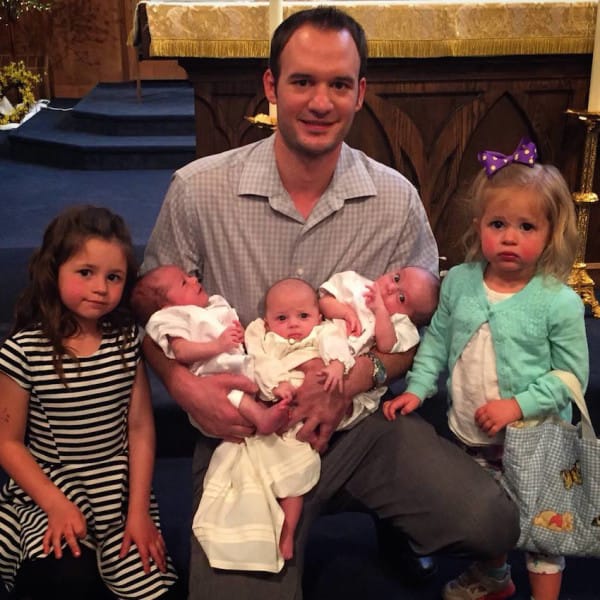 Of course there are times when he felt like giving up. But with the support of his community, and his own determination, Joey remained strong.